Known for its unmatched architecture, live music, and food scene, there's much more to Fog City than meets the eye. For a fully immersive San Francisco experience, check out some of our favorite places – we're sure you'll find some of your own along the way. Hoof it, Uber, or opt for the city bus that stops directly in front our our hotel!
The Chairman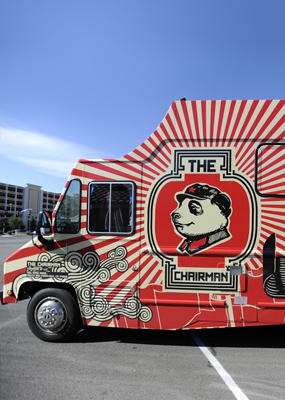 The Chairman
0.1 mi.
Asian-inspired street food with bao buns, rice bowls, and gluten-free options.
La Folie 1.2 mi.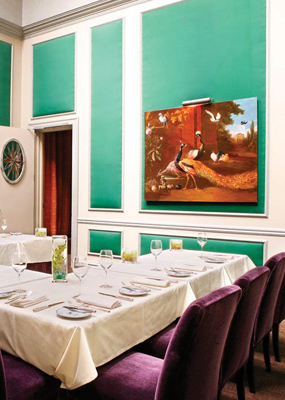 La Folie 1.2 mi.
Prix fixe classic French food served in an ornate dining room with lounge.
Upcider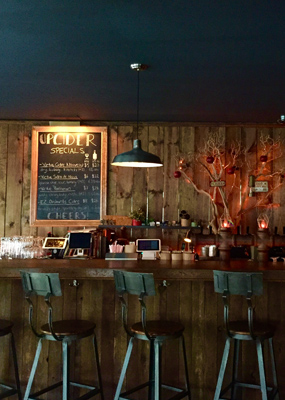 Upcider
0.3 mi.
Elevated views, exceptional food, and hard ciders from around the world.
Union Square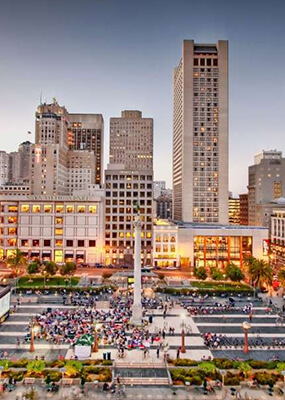 Union Square
0.9 mi.
This shopping mecca is home to the city's finest department stores and specialty shops, including Nordstrom, Macy's, Neiman Marcus, and Saks Fifth Avenue.
Thai Idea Vegetarian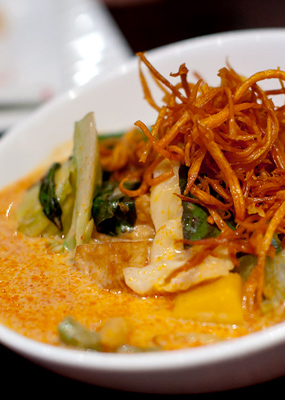 Thai Idea Vegetarian
30 ft.
Fresh take on traditional Thai food with a creative vegetarian twist.
Lombard Street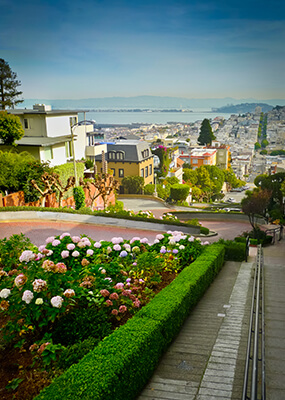 Lombard Street
1.6 mi.
Drive or walk past beautiful Victorian homes on America's most crooked street, thanks to eight hairpin turns on a treacherously hilly and steep 40-degree slope.
San Francisco City Hall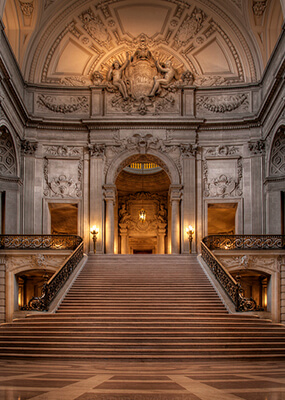 San Francisco City Hall
0.5 mi.
Re-built after the 1906 earthquake destroyed the original City Hall, the beautiful Beaux-Arts building is four floors of luxurious white marble, granite, and steel.
Company Headquarters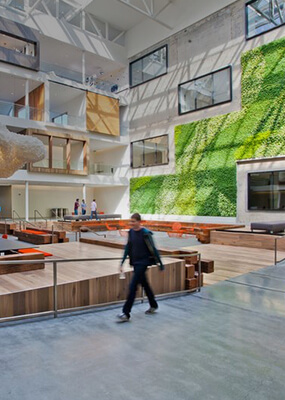 Company Headquarters
San Francisco is home to some of the most relevant and tech-savvy corporations, including Uber, Square, Pinterest, Twitter, Airbnb, and Yelp, to name a few.
Tadich Grill
Tadich Grill
1.7 mi.
An old-school institution for fresh seafood and classic cocktails.
Ghirardelli Square
Ghirardelli Square
1.8 mi.
Originally established as a chocolate factory by Domenico Ghirardelli, this historical retail and dining complex houses restaurants, specialty shops, and a 5-star hotel.
Whitechapel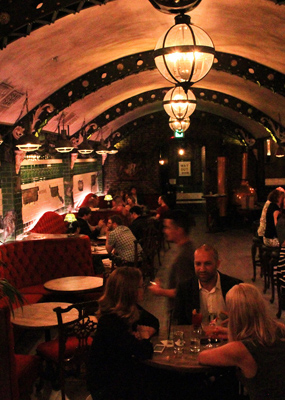 Whitechapel
361 ft.
Gin-centric Victorian cocktail lounge with internationally inspired cuisine.
University of California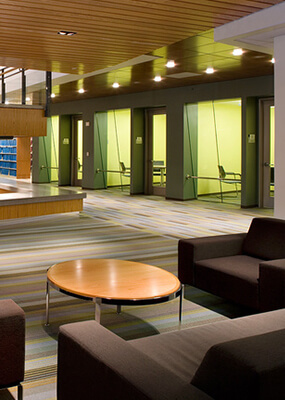 University of California
0.4 mi.
If you're in town to checkout the campus or attend an alumni event, UC Hastings College of the Law is conveniently located under a mile from our hotel.
Golden Gate Bridge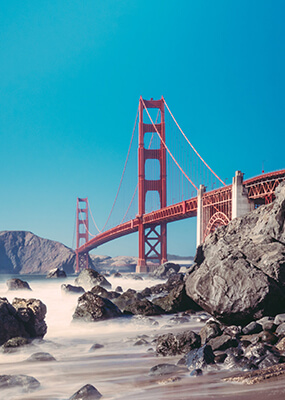 Golden Gate Bridge
5.2 mi.
Drive, bike, or walk across San Francisco's most recognized landmark and one of the world's most breathtaking architectural structures, the Golden Gate Bridge.
Pho 2000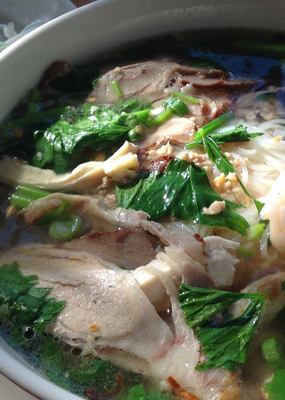 Pho 2000
0.1 mi.
Traditional Vietnamese noodle and rice bowls served in a no-frills cafe.
Restaurant Gary Danko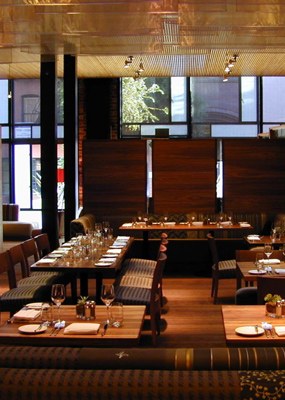 Restaurant Gary Danko
1.9 mi.
Chef Gary Danko's elegant but unstuffy restaurant with fixed-price fare.
SPQR
SPQR
1.1 mi.
Locally sourced Italian comfort food and fine wines served in cozy digs.
Ike's Love and Sandwiches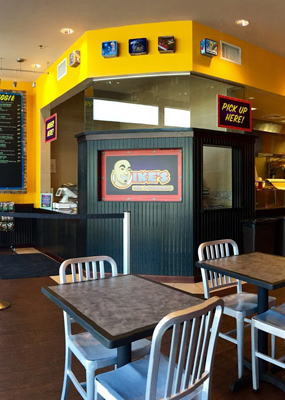 Ike's Love and Sandwiches
0.1 mi.
Specialty sandwich shop with creative puns for each hoagie on the menu.
Mela Tandoori Kitchen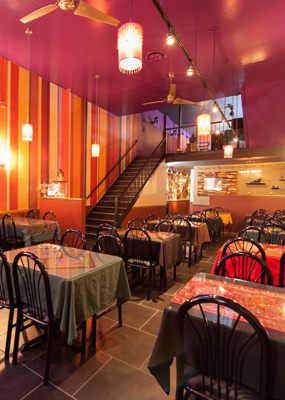 Mela Tandoori Kitchen
0.2 mi.
Family-style Indian and Pakistani food served in a colorful, inviting setting.
Moscone Center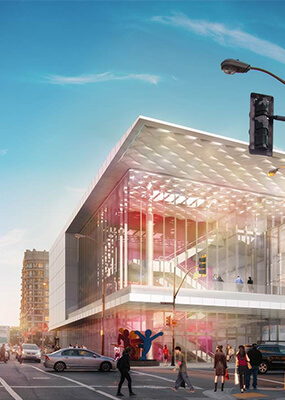 Moscone Center
1.1 mi.
Built in 1981 by architects Hellmuth, Obata & Kassabaum, the Moscone Center has hosted Microsoft, Apple, Google, WonderCon, and the 1984 Democratic Convention.
Amelie Wine Bar
Amelie Wine Bar
0.7 mi.
Candlelit bar and lounge serving cheese and charcuterie plates with wine.
San Francisco Zoo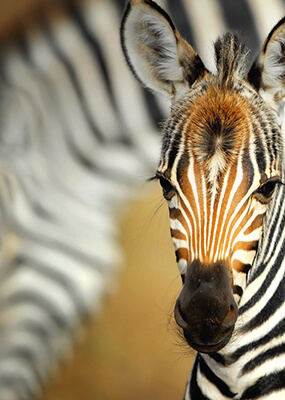 San Francisco Zoo
8.0 mi.
Overlooking the Pacific Ocean, this urban zoo is Northern California's largest conservation center and home to 1,000+ exotic and endangered animals.
Brenda's Soul Food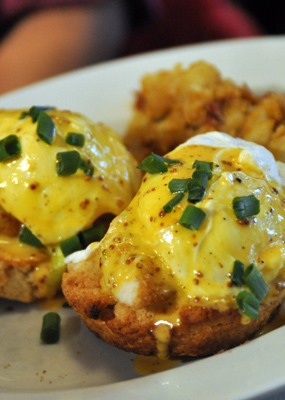 Brenda's Soul Food
174 ft.
A fresh takes on po' boys and beignets in a narrow but airy cafe.
Nearby Airports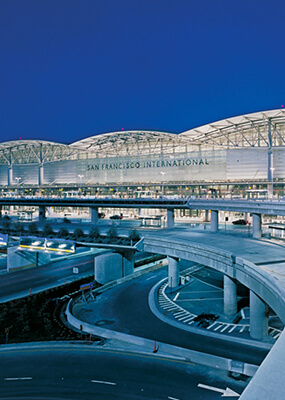 Nearby Airports
San Francisco International Airport (SFO) | 12.4 mi.
Oakland International Airport (OAK) | 19.8 mi.
San Jose International Airport (SJC) | 45.5 mi.
War Memorial Opera House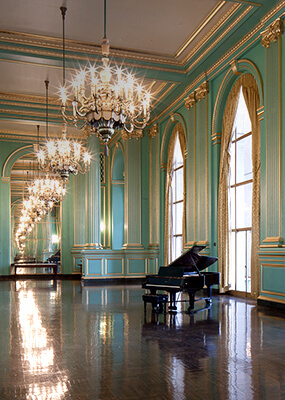 War Memorial Opera House
0.4 mi
Part of the San Francisco Performing Arts Center, the War Memorial Opera House showcases world-class performers with pristine acoustics in an elegant setting.
Bill Graham Civic Auditorium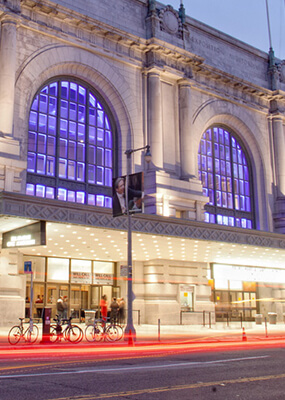 Bill Graham Civic Auditorium
0.4 mi.
A treasured landmark and multi-purpose arena that has historically hosted The Grateful Dead, Red Hot Chili Peppers, Janis Joplin and Jefferson Airplane.
Kokkari Estiatorio
Kokkari Estiatorio
2.4 mi.
Taverna-inspired cuisine in a chic, candlelit dining room with wood-beams.
Davies Symphony Hall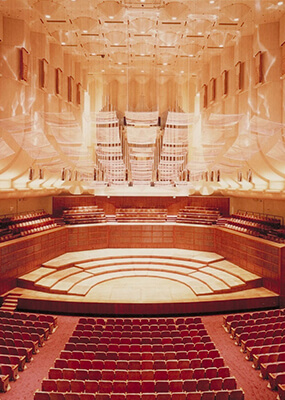 Davies Symphony Hall
0.5 mi.
Built in 1980 to the tune of $28 million dollars, the construction of this 2,743-seat hall allowed for the San Francisco Symphony to expand to a year-round schedule.
Zuni Café
Zuni Café
0.8 mi.
Famous roast chicken and wood-fired faves in a bustling bi-level bistro.
Fisherman's Wharf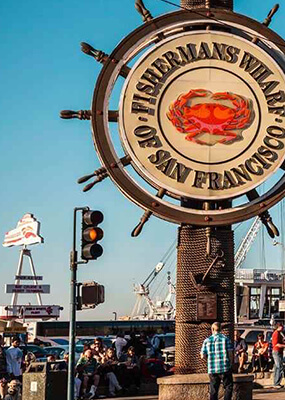 Fisherman's Wharf
2.0 mi.
A lively marketplace filled with souvenir shops, seafood restaurants and street performers, framed by breathtaking Bay views and historical fishing piers.
Alcatraz
Alcatraz
4.5 mi.
America's most infamous maximum-security prison, Alcatraz Island, once held the country's most notorious criminals, including Prohibition era crime boss Al Capone.